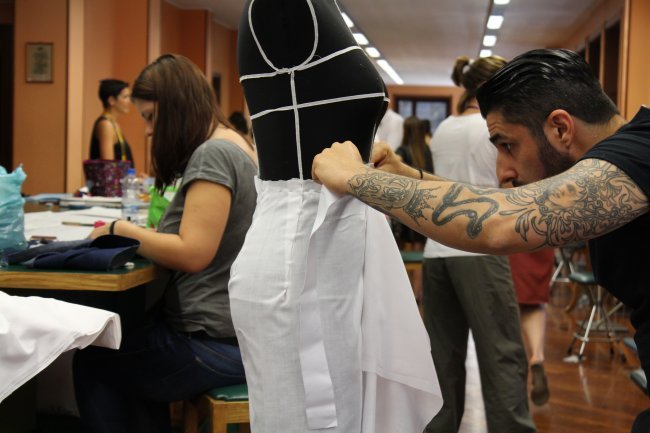 Draping is a technique of great manually that allows you to build a garment directly on the mannequin without using the pattern. Many great contemporary fashion designers own this fascinating technique. Draping course is aimed to all creative figures: Fashion Designers, Pattern Makers and Dressmakers. The course provides you all the techniques and procedures in order to accomplish a project.
Draping course presentation, history and use of the fashion technique
Necessary tools for the Draping realization
Study and measurement of the mannequin and the human figure – the lines marking
Fabrics structure: straight line and bias
Fabric placement on the mannequin
Pinning of the fabric and fabric marking
Study of basic bodice and exercise through the use of muslin
Study  and exercise on the various transformations
Study and exercises of simple and complex draping
Study and exercise of various apparel lines and structures in the history of fashion till nowadays
Study and research for preparation of student's own sketch
Realization of the sketch through the Draping technique with the muslin
Transfer of the model from muslin to paper
Final realization of the sketch in fabric
Istituto di Moda Burgo, international leader in fashion education, has developed a training method aimed to optimize and emphasize learning efficiency, having as main objective the inclusion of its students into the labour market.
Newsletter
Stay updated, subscribe our Newsletter!